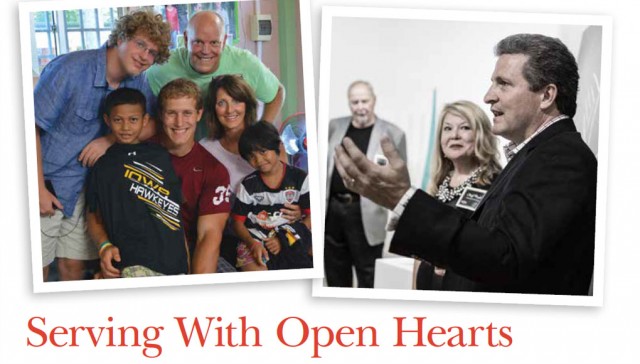 A number of residents in Cobb County go about their days working diligently to provide for their families at 9-5 jobs, but many of them also have a second profession — or something that requires just as much time — working humbly to give back to those in need not only in the area, but also around the world.
One such organization is Kennesaw-based Saving Susan Ministry, which was founded in 2014 by Jay and Tracy Arntzen of Acworth as a way to change the lives of orphans in countries where the borders for adoption are closed. Countries like Cambodia and Guatemala, for example, are closed to international adoption due to human trafficking. The ministry also has a college scholarship foundation that provides secondary education once a child graduates high school and ages out of orphanage, in addition to supporting causes to combat human trafficking.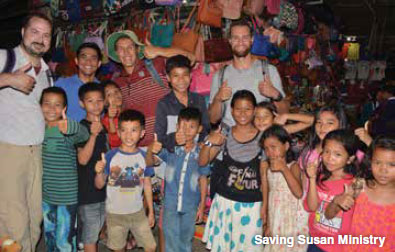 "Saving Susan Ministry works with our partner orphanages to find Parent Partners for the children there. Parent Partners and their families invest in the lives of their Partner Child and participate in two to four Skype calls each month with their Partner Child in order to build a lasting relationship," says Emma Burnett, ministry assistant with the organization. "The children are able to get the individual attention and love that they have not been given as orphans. We strive to break off the chains of abandonment; one child, one step at a time."
Burnett says that while they are not working directly in Cobb, they draw from the community to serve children internationally. "We have Parent Partners in Cobb County, Paulding County and Fulton County, as well as a Partner Family in Ontario, Canada," she says. "Additionally, we partner with three churches in Cobb County: Sanctuary Church, NorthStar Church and Burnt Hickory Baptist."
The program serves approximately 94 children in total from their three partner orphanages, and Burnett says the community has jumped right on board to organize clothing and Bible drives for the cause. "For Saving Susan Ministry, serving the Cobb community means seeing hearts opened to healing and hope for children who come from hopeless places," she adds.
Visit savingsusanministry.org or call (770) 423-1095, ext. 211, for more information. Donations may be made electronically, or mail checks directly to the office: 5205 Stilesboro Road NW, Suite 120, Kennesaw, GA 30152. The group is also a member of the Amazon Smile community. A link for the program is on the website.
Zelix Zone For Kids
The mother-daughter team of Martha Ouderkirk and Kathy Qualey co-founded Zelix Zone for Kids Inc. in 2015 to promote creativity in children from Cobb and surrounding counties.
"We use creative endeavors, including children's cookbooks by kids and for kids, as well as children's books, to help children deal with tough issues, such as anti-bullying, friends, health and wellness, special needs and anger," Qualey says. "These publications are fundraisers for Children's Healthcare of Atlanta, specific families who have children with special needs, as well as other organizations that focus on the issues discussed in the children's books."
Qualey says the organization's name comes from a doodling character she created while in ninth grade at Walton High School. The character was also her inspiration for Belvedere, the mascot for Zelix Zone for Kids' website, and the individual characters that children create for her website are called zelixes.
ZZK launched its first fundraiser last November with a children's cookbook that benefitted specific families, in addition to CHOA. The next project, Qualey says, will exclusively benefit CHOA, and the nonprofit is in the process of publishing a children's book that focuses on anti-bullying issues, which will benefit an anti-bullying campaign.
Their cause has been well received by the Cobb community, as well as the nation. Qualey says the story of their first fundraiser sparked interest from local TV stations, in addition to "Good Day" shows throughout the country. "We are so honored and humbled to be able to serve our wonderful Cobb community," she says. "Martha and I have been residents of Cobb County since 1979, and I am currently raising my five children here in this wonderful community. To be able to give back to our community through Zelix Zone for Kids is such a blessing to us."
Learn more by visiting the children's creative website at zelixzone.com or contacting Qualey at (770) 361-6456. You're also invited to check out the Facebook page for the cookbook fundraiser by searching for "Hope for Brody Charity Cookbook." Donations may be mailed directly to: P.O. Box 70572, Marietta, GA 30007.
Raising Help and the Good Dog Foundation
Raising Help, founded by Bill and Cheryl Musial of Mopdog Creative + Strategy in Kennesaw, was created out of their dedication to working with nonprofits on various strategies to create communication and development plans. "Probably four or five years ago, we started thinking about what we could do to help nonprofits by utilizing our experience, but also make a business out of it," Bill Musial recalls. "It's great that we do a lot of pro bono work, but we feel like we can do so much more by making it sustainable rather than just giving it away for free, but it didn't really feel right to charge them for everything. We just wanted to try and help people."
They came up with an idea where a portion of their work with a nonprofit is free. "If we have a 50-hour project, we would give an in-kind sponsorship, maybe an additional 8-10 hours of time, so they are getting more of a 60-hour project, but only paying for 50," Bill Musial explains. "Then, out of the money that they are paying us, Raising Help makes a donation to a foundation that we started, Good Dog, and Good Dog takes that money and gives grants to other nonprofits.
"We feel like this is a way that we can use our expertise to get paid for our time, but we help a nonprofit with a strategy while also giving them something back in time. Then, we also take that money to help another nonprofit. It's a full circle … everyone is working together to help each other."
Cheryl Musial says their work with nonprofits involves helping develop means by which a nonprofit can connect with its stakeholders and engage people, whether it's donor supporters, volunteers or the general population. "For some organizations that we've already started to work with, they are really starting to formulate their whole strategic plan, so we've been able to assist them with that and picking through the mission statement, vision and values to figure out how they reach their target audience groups," she adds.
Some of the groups they've been fortunate enough to work with include the Boys & Girls Club of Metro Atlanta, Enduring Hearts, a Marietta-based nonprofit that funds research to increase the longevity of organ transplants and improve the quality of life for transplant recipients, and The Children's Park of Georgia, a unique park to celebrate the lives of all children that is being developed by Remember Georgia's Children Foundation. "Our hearts really have been in the nonprofit sector and in really helping families and children, helping support and focus in on those biggest assets of our society," Cheryl Musial says. "It's a dream come true, to see how we can take our expertise and help nonprofits do more with what they have."
Good Dog, a family organization supported by the Musials and their two sons, a sophomore and senior at Harrison High School, is a way for their family to work together to figure out how they can help and give back to nonprofits.
Learn more by visiting raisinghelp.org and gooddog.mopdog.com. Information on how to make donations and support these foundations are also available online.