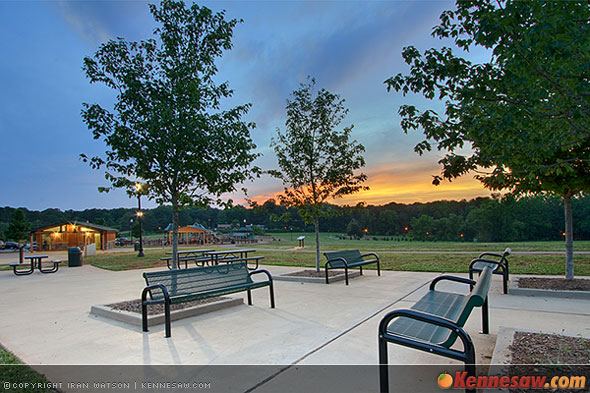 With more than 40 acres, Swift-Cantrell Park is the largest community park in Kennesaw, Georgia. The park serves as a recreation facility as well as a central gathering point and location for numerous Kennesaw events. Some of the events held at the public park include the Great Locomotive Chase 5k Race, Swift Cantrell Classic 5K, as well as several outdoor movies during the summer.
Kennesaw's Swift Cantrell park is home to two paved and lighted trails. The larger of the two trails is a one mile long, twelve foot wide perimeter trail. The smaller trail is a half mile long and eight foot wide inner-loop.
One of the many highlights of this park is playground area. The playground area includes two age-appropriate PowerScape Plus playground structures that include swings, bridges and climbers as well as an Xscape System with circuits, walls, climbers, and rings.
For the animal lover, Swift-Cantrell includes the Frank Boone Dog park. The Frank Boone Dog Park includes 1.4 acres of play area for the pets, separated into two sections (one for large and one for small dogs) surrounded by 6″ fence. The dog park is open from sunrise to sunset and includes a watering station, a dog bath area, and dog waste bags and receptacles.
Another unique feature of the park is the skate park. The skate park is a permanent concrete skate park located along the western edge of Swift Cantrell Park. The skatepark is open to skates and skateboards only.
The park also features acres of open space, picnic pavilions and shelters, a plaza area with park benches, drinking fountains (each fountain has a high spout for humans, and a low spout for dogs), two restroom buildings, as well as free WiFi internet.
Park Hours:
7am to 10pm
Address:
3140 Old US Highway 41
Kennesaw, GA 30144
Parking:
Parking is free and available for 170 vehicles. Additional parking is available at Kennesaw Elementary School (weekdays after 5:30pm, and weekends from 7am to 10pm), located at 3155 Jiles Road, Kennesaw, GA 30144.
Phone:
(770) 422-9714
For more information, please call the Kennesaw Parks and Recreation Department at (770) 422-9714.
[mappress]
Photo credit: Iran Watson
For more information, please call the Kennesaw Parks and Recreation Department at (770) 422-9714.