The General is a steam locomotive built in December of 1855 in Paterson, New Jersey by Rodgers, Ketchum & Grosvenor Locomotive and Machine Works.  The train provided transportation and freight service between Chattanooga and Atlanta on the Western & Atlantic Railroad.  The train was hijacked on April 12, 1862 during the Civil War by Andrews' Raiders at Big Shanty (now known as the city of Kennesaw) in what was later referred to as the Great Locomotive Chase.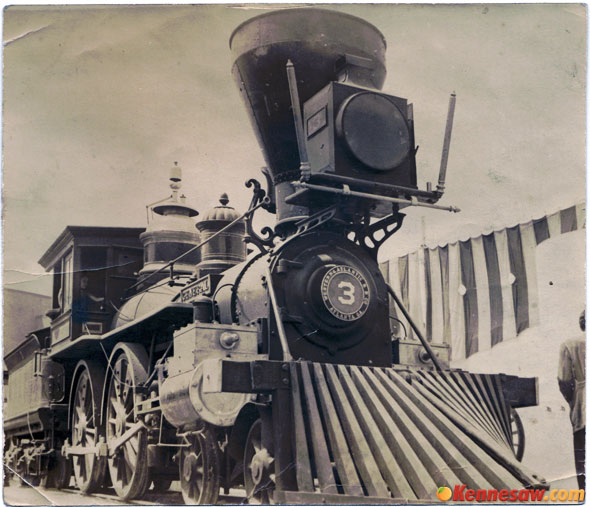 The story of the chase began when the 22 Northern spies, let by James J. Andrews, arrived in Marietta on April 10 and made their way to the Kennesaw stop in small groups in order to avoid arousing suspicion.  When The General arrived on the morning of  April 12, the Raiders waited for the passengers and crew to exit the train for breakfast and to restock fuel and water.  When the train was empty, the Raiders siezed control of the locomotive and steamed north, hoping to burn bridges and disrupt communication and transportation lines.  Before they were able to complete their mission, they ran out of water and wood two miles north of the city of Ringgold, Georgia (close to Chattanooga) and were forced to abandon the locomotive and flee. The raiders were eventually captured by the Confederate Army and some were executed as spies.  Later, some of the surviving members of Andrews' Raiders were the first recipients of the Medal of Honor.
Narrowly escaping distruction itself during the burning of Atlanta, The General was in service for a number of years and then retired in Vinings, Georgia in 1891. In 1892, the General was refurbished and went on a tour that included the World's Columbian Exposition in Chicago in 1893, the Cotton States and International Exposition in Atlanta in 1895, and the Tennessee Centennial Exposition in Nashville in 1897 before being put on "permanent" display at the Union Depot in Chattanooga, Tennessee on May 16, 1901. In 1961, the General was removed and refurbished for a 1962 tour to commemorate the 100th anniversary of Andrew's Raid. After the tour, the General was returned to Chattanooga until it was given to the State of Georgia by the L. & N. Railroad in 1967. After a legal battle for ownership of the historic locomotive, the General returned to Kennesaw in 1972. The General is currently housed in the Southern Museum of Civil War and Locomotive History in Downtown Kennesaw, Georgia and is listed on the National Register of Historic Places.