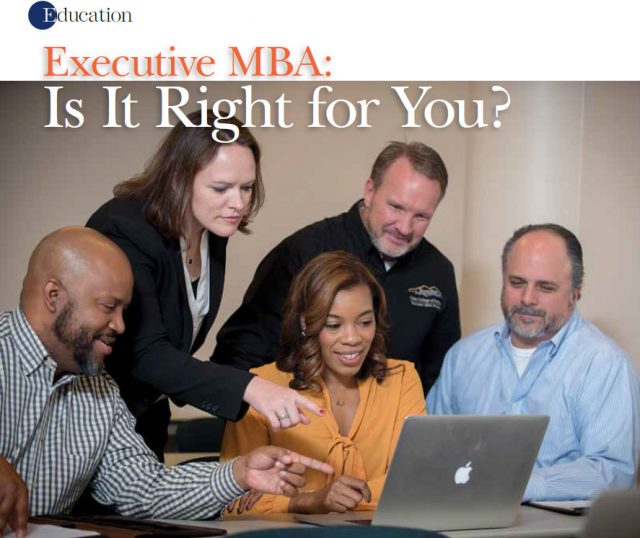 KSU Program Lets Professionals Maintain Their Career While Pursuing Degree
Living in one of the most highly educated counties in the United States (according to U.S. Census data) puts Cobb professionals in great company when it comes to networking, but this also makes it a very competitive environment for those looking to climb the corporate ladder. For professionals who don't want to put a pause on their careers to earn an MBA, the Executive MBA (EMBA) program at Kennesaw State University's Coles College of Business offers the opportunity to improve business and leadership skills, to build a stronger professional network, and it helps graduates stand out from the crowd of job candidates.
Teamwork Leads to Long-Term Success
As marketing strategist for WellStar Medical Group, which encompasses 245 outpatient office locations and more than a thousand providers, Mandy Burton had known about the EMBA program long before enrolling. Several WellStar executives — including her boss — had graduated, and she knew Allan Bishop, director of recruitment and business development for KSU'S EMBA program through her involvement with the Cobb Chamber of Commerce. "He worked to recruit me through various conversations for a year or so before I became part of the class," says Burton, who's set to complete the program in 2018. "He did a great job of answering all my questions, and putting me in touch with alumni to discuss their experiences as well."
Burton had considered other MBA programs, but chose KSU's for two reasons: "First, it immediately felt like a close-knit family from the moment I came through the interview process," she says. "You meet all the staff and many professors ahead of time, and it is abundantly clear they are accessible, and dedicated to this program and the students' success. In meeting alumni, you could tell their experience was unique and their classmates became lifelong friends and supporters."
The second reason she chose KSU was because of its structure. "Not only do you focus on the essential business acumen subjects, but there is an additional fantastic teaming component, including an international residency with your team, that teaches you how to lead and work with others while also extensively learning deeply about yourself. These things, coupled with the support of faculty and networking opportunities throughout the community, were different from any other program I considered."

Joseph Handy, president and COO of the Georgia Aquarium, agrees with Burton that the teamwork component of the program helped develop his business acumen, allowing him to provide more value to his organization. "The teaming aspect was the most enlightening part of the program for me," the Smyrna resident says. "I learned to appreciate the diversity of thought and learned the skill of listening."
While Burton initially struggled with adjusting to being back in school, she says once she became acclimated, she immediately appreciated the phenomenally enriching experience. "I'm learning such a myriad of things from the prestigious faculty, outside business executives, and my diverse group of classmates and it has been more than I could have imagined initially," she says, adding the opportunity to network with classmates, many of whom live and/or work in Cobb, provides an additional aspect of learning and connecting outside of the classroom.
As a marketing professional, Burton weighed the benefits of a graduate degree in marketing versus an MBA. Now, she knows she made the right choice for her career. "I can say now that no matter what field you are in, everything you will learn becomes immediately applicable to what you're doing at work," she says, noting the courses have specifically bolstered her finance knowledge, helping her better connect the dots between her department and the rest of the organization. "I can run my meetings more efficiently, and understand more about myself and others from a management and peer perspective. It is an incredibly well rounded program that equips every graduate for long-term success."
Handy said he would "absolutely" recommend the program to other professionals. "You learn more about yourself and how to work with others from different backgrounds," he notes.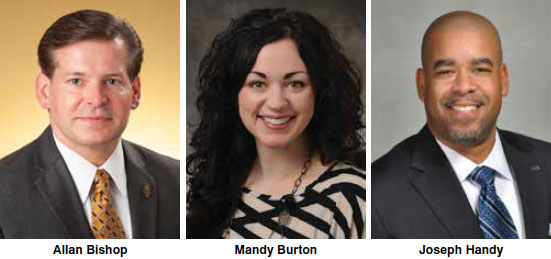 What to Expect from a KSU EMBA
For the third year in a row, the program has been recognized by CEO Magazine as a Global Tier One EMBA program. The magazine's new numerical ranking placed KSU's program at No. 9 in the world and at the top of all other Georgia EMBA programs. Schools are classified as either Tier One or Tier Two based upon a number of factors including quality of faculty, international diversity, class size, accreditation, work experience, international exposure, professional development, gender parity, and delivery methods.
KSU's Bishop explains that EMBA programs are designed for working professionals, allowing them to obtain their degree in two years or less while maintaining their careers. The program works well for individuals looking to become better leaders, to advance their careers and to understand all facets of business, he says. "This is not a 'check-the-box' type of degree; this is the type of program where students need to be all in and put into the program as much as they expect to get out of it," Bishop says.
Classes are held one weekend a month at the KSU Center, which is located across from the main campus close to the football field, and students are put into teams for coursework completed in-between class weekends. EMBA students are typically older than traditional MBA students and have more work experience. In the current cohort, the average age of students is 38 with an average of 14 years work experience, Bishop says. Prospective students should, at a minimum, have an undergraduate degree and five years of post-graduate work experience, preferably at the management level.
The curriculum is focused on workplace applications, and Bishop notes this is one of the main reasons why a high percentage of students receive a promotion while in the program or shortly after. "An EMBA degree is not only a way to differentiate yourself and stand out from an education standpoint; it is an opportunity to form valuable business relationships with current and future leaders in your community and throughout metro Atlanta," he explains.
The program hosts information sessions once a month, typically at the KSU Center during a class weekend, allowing prospective students to connect with faculty, alumni, and the current class. More information on the program can be found at ksuemba.com.