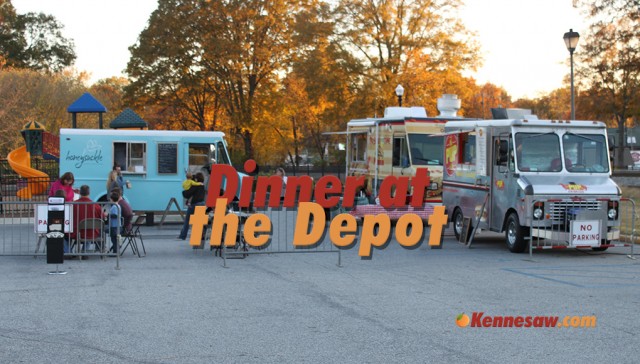 Dinner at the Depot takes place in downtown Kennesaw every Monday evening (weather permitting) the first week of April through August. Dinner at the Depot features live music and a variety of food trucks and takes place from 5:30 pm to 7:30 pm. Attendees can grab some food to go or stay to enjoy the music and a picnic in the park.
Participating food trucks in 2020 (usually 4-6 each week) may include:
Tom+Chee Kennesaw
South of Philly
The Bento Bus
Repicci's Italian Ice & Gelato
Angelfire7 BBQ
C'est Tout Bon 2 Eat
Dave's Meatball Mosh Pit
Patty Wagon ATL
Big C's Chicago Kitchen
Kona Ice
The Nest Kennesaw (2-tap craft beer station)
Also, the Kennesaw Farmers Market (3:30 pm to 7:30 pm) joins Dinner at the Depot (5:30 pm to 7:30 pm).
Hours:
Mondays from 3:30 pm to 7:30 pm
Dates:
Suspended for the 2021 season.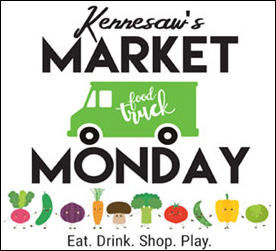 Address:
Parking lot next to Adams Park
2785 Watts Dr
Kennesaw, GA 30144
Be sure to check the event organizer's Facebook page for late breaking weather cancellations.
For more information, please contact the Kennesaw Downtown Development Authority at (770) 794-7075 or visit the Dinner at the Depot / Kennesaw Farmers Market Facebook page at Facebook.com/KennesawFarmersMarket.