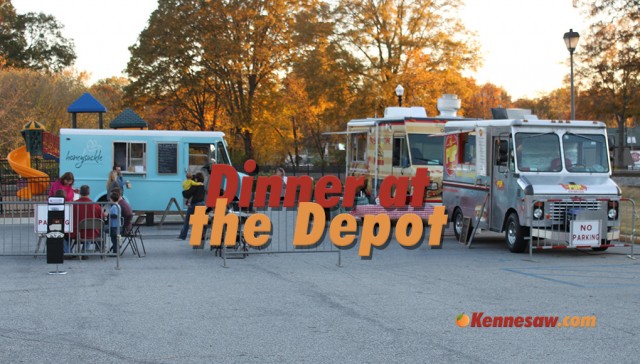 "Dinner at the Depot" takes place in downtown Kennesaw every Monday evening (weather permitting) May through September. Dinner at the Depot features live music and a variety of food trucks. The event takes place in Depot Park on Cherokee Street across from the Southern Museum from 5:30 pm to 8:30 pm. Grab some food to go or stay to enjoy the music and a picnic in the park.
Participating food trucks (usually 5-7 each week) may include:
Angelfire7 BBQ
Blaxican Food Truck
Dominic's NY Pizza
Dominic's On The Bayou
Eazy Eats
Emma's Bistro & Grill
Five Finger Philly
Flavors of Hawaii
Gotta Have It Catering
Gyro Chef Food Truck
Island Chef Cafe
Kona Ice
Namaste Atlanta
Patty Wagon ATL
Philly Connection
Taco Tuesdays
The Bento Bus
The Ripe Juicery
UrbanTaali
Vego Bistro
Also, the Kennesaw Farmers Market (3:30 pm to 7:30 pm) joins Dinner at the Depot (6 pm to 9 pm) at Depot Park.
Hours:
Mondays from 5:30 pm to 8:30 pm
Dates:
Every Monday afternoon from May through September
Monday, May 7, 2018 through Monday, September 24, 2018
(Closed Labor Day, September 3, 2018)
Address:
2829 Cherokee Street
Kennesaw, GA 30144
For more information, please contact the Kennesaw Downtown Development Authority at (770) 794-7075 or visit the Dinner at the Depot Facebook page at http://www.facebook.com/pages/Dinner-at-the-Depot/170819866333868.