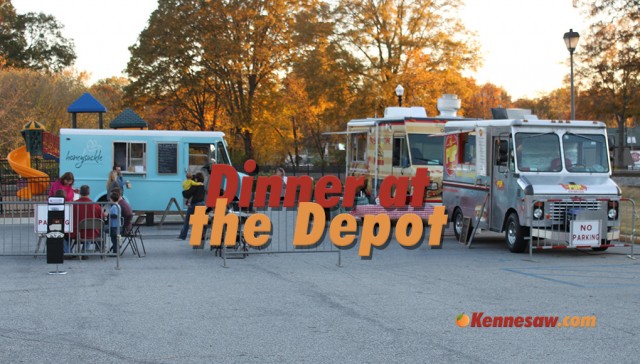 "Dinner at the Depot" takes place in downtown Kennesaw every Monday evening (weather permitting) May through September. Dinner at the Depot features live music and a variety of food trucks. The event takes place in Depot Park on Cherokee Street across from the Southern Museum from 5:30 pm to 8:30 pm. Grab some food to go or stay to enjoy the music and a picnic in the park.
Participating food trucks in 2019 (usually 5-7 each week) may include:
Angelfire7 BBQ
C'est Tout Bon 2 Eat
Dave's Meatball Mosh Pit
Patty Wagon ATL
Tom+Chee Food Truck
The Bento Bus
Big C's Chicago Kitchen
Kona Ice
The Nest Kennesaw (2-tap craft beer station)
Also, the Kennesaw Farmers Market (3:30 pm to 7:30 pm) joins Dinner at the Depot (5:30 pm to 8:30 pm) at Depot Park.
Hours:
Mondays from 5:30 pm to 8:30 pm
Dates:
Every Monday afternoon from May through August
Monday, May 6, 2019 through Monday, August 26, 2019
Check the Facebook page for late breaking weather cancellations.
Address:
2785 Watts Dr
Kennesaw, GA 30144
For more information, please contact the Kennesaw Downtown Development Authority at (770) 794-7075 or visit the Dinner at the Depot Facebook page at https://www.facebook.com/Dinner-at-the-Depot-170819866333868/.