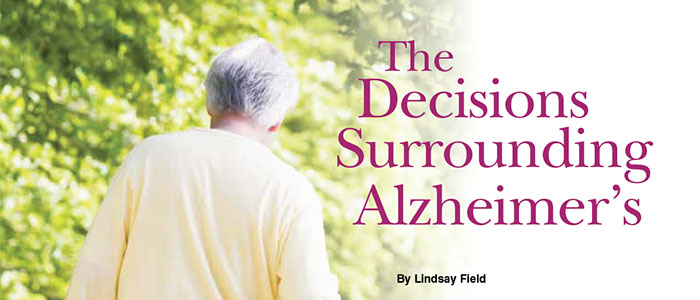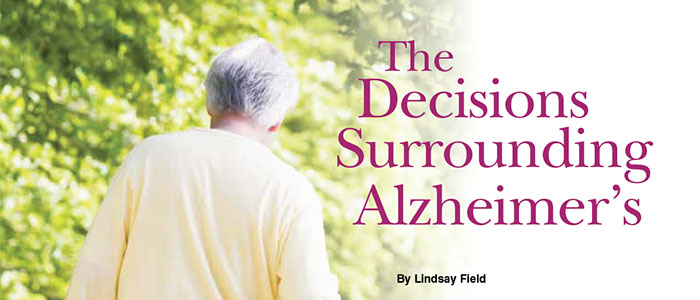 Even though Kennesaw resident Suzanne Boesl's mother Winifred Adair, formerly of Powder Springs, was barely showing signs of Alzheimer's disease, she decided to take her to a neurologist to be examined. "I wanted the neurologist to be aware of her family history—six of her 13 siblings have been diagnosed with Alzheimer's—and be proactive with her treatment if necessary," Boesl recalls. "The doctor ran a number of tests and determined that she had mild cognitive impairment, which is the first stage of dementia. He started her on medication to help slow the progression of her memory loss. At the time of her diagnosis, she was living independently and was still driving within a 10-mile radius of her home."
Dr. Shravantika Reddy with WellStar Medical Group Family Medicine in Marietta says Alzheimer's is the most common form of dementia and is the general term used to describe several disorders that cause significant decline in two or more areas of cognitive functioning that are severe enough to result in functional decline. Additionally, she says that Alzheimer's is a progressive disease beginning with mild memory loss and progresses to complete loss of the ability to carry out a conversation. Dementia is a disease of later life, beginning after 65 years of age. The incidence of the disease doubles every five years after age 60. The number of people in Georgia projected to have Alzheimer's in 2014 was 130,000 and it is expected to increase to 190,000 by 2025.This is a significant change from 2014 to 2025. The number of patients is rising as the cause of this condition is still under research.
In early 2013, Boesl says she and her brother began noticing some memory problems and changes in their mother's behavior, including a time when Mrs. Adair didn't recognize a photo of her husband, the late Doyle Adair. At about that same time, Boesl also realized that her mother was forgetting to take her medication and ended up in the hospital as the result of an accident. A home healthcare provider was hired shortly thereafter and eventually, she was moved into an assisted living home—Hearthstone at Presbyterian Village in Austell. "My mother loves being around people and being involved in activities," Boesl says. "She had been very depressed for the last year or so living alone. I think as her disease started to progress, she became less able to take care of her household responsibilities and became fearful of living by herself."
Hearthstone, which opened in 2005, is a secured, supporting living center for people who need support and oversight of conditions such as Alzheimer's. Modeled after the Montessori concept of self-directed activities, Hearthstone meets the special needs of those with memory loss by using a person-centered care approach. Each day's schedule is personalized, so residents choose when to rise, dine, prepare for the day and retire. Staff also provides assistance with all activities of daily living and it is across the street from Presbyterian Village's location, which makes for a smooth transition if someone is in need of memory care support.
"My mother moved into Hearthstone in June of 2013 and has been happy since the first day," Boesl says. "I never dreamed she would transition into her new home so easily. I have never heard her say one negative thing about Hearthstone. She loves all of the employees, the facility and all the programs that are offered. Every time I see her, she tells me how fortunate she is to live in such a nice place." She adds that Hearthstone has also been a better financial choice for her family and has cost less than in-home care.
"If anyone asked my advice about dealing with a family member with Alzheimer's, I would say that early intervention is key," Boesl says. "Find a good neurologist, one that has experience with dementia patients, and make an appointment for your loved one to get tested. Even if there are few symptoms in the beginning, the doctor will at least have a base line in which to compare future tests. Work with the doctor to find medication that will hopefully slow the progression of the disease.  Also, talk openly and honestly with your loved one about the future." She also recommends visiting assisted living facilities and comparing them. "My mother did not make the decision to give up her home and move into assisted living immediately, but with encouragement from friends and family members she ultimately made the decision to move," Boesl says.
Help is Key
Lisa Meeks, owner and geriatric care manager for SeniorCare Options in Marietta, says that working with Alzheimer's patients or any diseases related to dementia can be tricky and that loved ones shouldn't try to tackle it alone. "Families need skilled and trained providers to assist in the care of their loved one," she says. "Eventually, most people with Alzheimer's will need a higher level of care—usually provided by professional caregivers and other providers. It is better to have the loved one cared for by multiple people to get them used to having others provide care. It reduces the discomfort of unknown or new caregivers. Earlier care is better in the long run."
She adds that outside help is beneficial because it can include 24-7 care for your loved one, in addition to your family member being more accepting of help from someone who is not related to them. "No one will argue that you know your loved one better than anyone else, however, a provider may know how to address the disease process and challenging behaviors better than you do," Meeks says. "Certain kinds of care you might not even want to provide for your loved one, and that is not a judgment of character—not everyone is cut out to help shower or change disposable undergarments."
There are an abundance of options for Cobb families, too, including county provided assistance and senior centers. "There are retirement living communities, assisted living and personal care homes, memory care, non-skilled home care and adult day care available all over Cobb County," Meeks says. "We have excellent hospitals, home health and hospices as well."
Additional tips for caregivers, provided by Dr. Reddy, include motivating a loved one to plan ahead with preparing their living will and advance directives before decision-making capacity is affected. She also recommends keeping your loved one pain free and comfortable; try keeping them oriented with the help of clocks, calendars and to-do lists; provide them with adaptive strategies like use a stop sign on the door, use pictures such as food for dining room; and use simple sentences to speak and create a calm environment. "Several resources are available to relieve caregiver stress such as home meals delivery, respite care, geriatric care managers and adult day care centers," Reddy concludes. These are available online at alz.org and healthinaging.org, just to name a few.
Legally Unpredictable
When it comes to Alzheimer's, a loved one's progress is never predictable and often, an attorney is contacted to help with any long-term planning before someone's mental capacity becomes a problem. "Alzheimer's often causes a great deal of emotional and financial stress to the family," says Dawn Levine, an estate planning and probate attorney with Lyle & Levine, LLC, in Marietta.  "Waiting to make decisions once the family is in crisis mode can lead to significant strife. This can result in permanent rifts in the family, as well as large legal bills. It can be very difficult and expensive for the family."
Levine says far too often they have clients who wait until the last minute to put documents in place, maybe after they realize a family member's home needs to be sold because he or she can't remember their own address and it's time to be placed in assisted living. "We can still help them," she adds." It is just more expensive and time consuming."
It's also important to keep in mind the minimum capacity requirement to sign legal documents, or update existing ones. "Often we hear from client's loved ones that the mental decline happened far faster than they expected or more suddenly than they expected," Levine says. "Waiting too long means signing new documents is no longer an option. The earlier the loved one sees an attorney the more options they will have available." Delaying could also result in spending more money. "If someone has lost the capacity to execute documents the only alternative may be going to court to get a guardian or conservator appointed," Levine continues. "They can still be helped, it is just more expensive than early planning."
Levine warns of problems that could arise if an attorney is not involved early on in the process. "We have seen clients engage in self-help to save money or protect themselves from horrors, real and imagined," she says. "This self-help can and does result in nasty legal battles, accidental disinheritances, financial exploitation and other unpleasant experiences."