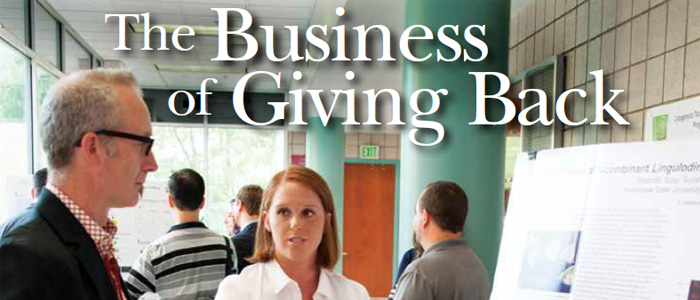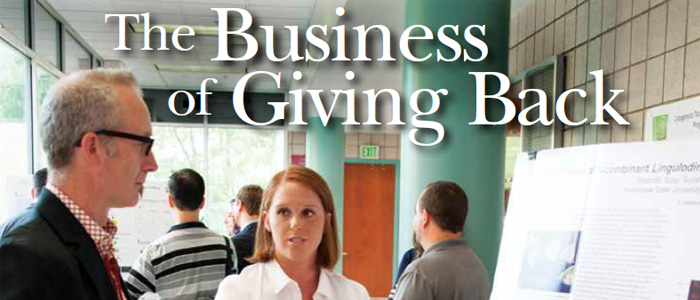 Cobb County is home to a number of businesses, some strictly local and others with far-reaching, or even international, ties. And although business and sales may be predominantly on the minds of people working and in running these establishments, there is a common thread: They also understand the importance of giving back and helping, whether it is volunteering with local nonprofits, donating time and money to area universities or working closely with high school students. The generosity of Cobb residents and workers alike is immeasurable, and it can be easily spotted if you just take the opportunity to look a little closer.
Novelis, an international rolled aluminum company headquartered in Buckhead that runs its Global Research and Technology Center in Kennesaw, regularly gives back to the Cobb community in many ways according to Graeme Marshall, director of the Kennesaw location. "We have a number of interactions with the community. The majority is with local schools," Marshall says. "We've signed up with the Cobb Chamber [of Commerce], and partnered in education with two local schools, one in Marietta and one in Kennesaw."
Novelis has two key "shows," or events, that its employees put on when visiting schools. The first, called "The Magic of Material Science," is an interactive demonstration designed to build interest with the kids and to show them that science can be fun and cool," Marshall says. He describes the second show as a recycling talk. Their scientists and engineers also participate in other local events, giving speeches and discussing the importance of recycling. "Novelis recycles close to 50 billion cans every year," Marshall says. "We're very big on aluminum recycling."
Novelis also participates in its "Month of Giving" in October each year. "Novelis worldwide has a month of giving back to the community," Marshall says. "We have a slogan that says 'Unite Globally, Impact Locally.' We raise funds through a variety of internal events, such as donations, competitions and silent auctions, where the company matches one-for-one." During this month, Novelis partners with Habitat for Humanity and employees help build a house in just six days. Marshall says last October they had more than 40 people on site building a house.
Additionally, Novelis employees are partnering with local high schools, specifically Walton in east Cobb and Kell in northeast Cobb, for the FIRST Robotics competition each year. Marshall says employees help and mentor young, budding engineers with their projects for the competition. Students who participated in this year's competition did a demo for the Novelis employees at their company picnic in August. "I think it's important for any company to give back to their community … We can all help out. It's a two-way street," Marshall closes.
Giving: A Company Philosophy
Alex Gregory, president and CEO of YKK Corporation of America, says giving back to the community is a big part of their company's philosophy. The company is headquartered in Marietta and has another location in Austell. A privately-owned Japanese company, YKK is a leading manufacturer of fastening products, including zippers, metal buttons and snaps, webbings, hook and loop and plastic buckles, and it exports to more than 50 countries around the world. "We're proud to be headquartered [in Cobb] … Our company's founder was very committed to the community," says Gregory. "His son Mr. Yoshida, who took over in 1993, is very committed to his father's philosophy."
Gregory says YKK works with several charities, including the American Heart Association and Toys for Tots. Additionally, Gregory says two employees from YKK recently initiated its first Science, Technology, Engineering and Mathematics (STEM) partnership with the students and staff at Tritt Elementary School in east Cobb. STEM education is described as "an integrated curriculum that is driven by problem solving, discovery, exploratory project/problem-based learning and student-centered development of ideas and solutions," according to the STEM Georgia website. During this visit, YKK employees described engineering to 140 third-graders, discussed how YKK specifically uses this process and that teamwork is a valuable asset in their workplace.
Gregory also personally believes in giving back to the community. He serves on the Asian Studies Advisory Board at Kennesaw State University, mentors students at Georgia Institute of Technology and is a member of the Board of Trustees at Georgia College and State University. "Wherever we are, we try to be active in the community," he says. "It's not just about providing financial support. All of these worthwhile charities can benefit from donating our time."
A Commitment to Cobb's Higher Ed
Birla Carbon, the world's largest manufacturer and supplier of high quality carbon black additives, is another Cobb-based company that must be noted in the conversation of giving back to the community. The international company has two state-of-the-art technology centers, one in Marietta and the other in India. Terence Norman, Birla Carbon's director of human resources in the North American Region, says that his company is donating $250,000 to Kennesaw State University's Department of Science and Mathematics over the next five years. "For each of the five years, 10 students will be selected to conduct summer research in chemistry, biology and mathematical related topics," Norman says. "From the 10 researchers, the top researcher will be awarded a $2,000 prize to fund costs associated with presentations at conferences and larger audiences."
In turn, KSU professors provide the guidance for the researchers while Birla Carbon scientists and lab managers conduct judging during the program. "We feel that it is important to assist in developing tomorrow's professionals," Norman adds. "Teachers and professors, at all educational levels, want their students to understand real world applications as they relate to the theoretical methods learned in the classroom. Hopefully, our engagement inspires students to apply themselves more while learning those methods."
Mark Anderson, dean of the College of Science and Mathematics at KSU, says this support from Birla Carbon is huge for both the students and faculty. "By engaging different business people, or scientists, working in a commercial enterprise, students are given a whole different way of looking at the science," he says. "College enlightens people by giving them different perspectives. … Interacting with businesses is important, but interacting with a multinational business is huge."
Anderson is also thankful to Birla Carbon for its help and encouragement to KSU students. "We are very grateful for this partnership … the financial commitment is generous, but what's even better is that Birla wants to be engaged with the students and the faculty," he says. "The true partnership is that they are part of what we're doing here and they have been very active in this process. Time is more valuable than money and they have really been huge by committing their time."