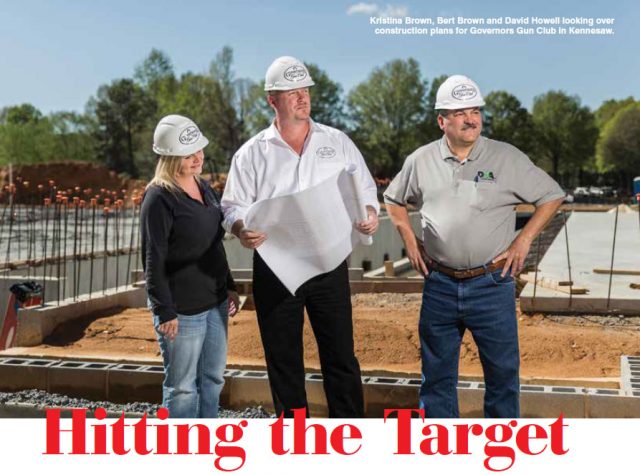 The Governors Gun Club Puts a New Twist on the Traditional Country Club
Bert Brown could practically feel the buzz in the room when he and several colleagues walked the exhibition floor at this year's National Shooting Sports Foundation's SHOT Show in Las Vegas. People kept stopping him to ask questions when they saw the name and logo on his shirt.
"There's a lot of talk inside the industry about what we're doing," says Brown, who founded the Governors Gun Club with his wife, Kristina, in 2013. Offering the premier indoor shooting facility in Powder Springs, Governors Gun Club has become the go-to resource for metro Atlanta residents who enjoy the sport of shooting. Yet, it's what the organization has planned next that had those industry people clamoring to get a few moments with Brown in Vegas. They just had to learn more about the new, state-of-the-art, 87,500-square-foot convention and shooting facility being built in Kennesaw.
"We are creating the ultimate environment for the sport of shooting," Brown explains of the $12-million facility, which will feature 32 indoor pistol and rifle lanes; three 100-yard indoor, high-power rifle ranges; 35,000 square feet of space for indoor sporting clay with trap, skeet and five stand; a 10,500-square-foot retail showroom; a 30-yard indoor archery field; an outdoor archery field; 6,000 square feet of convention space; a 700-square-foot classroom; a dedicated members lounge; and much more. Currently under construction only moments from Cobb County International Airport with easy access from Interstate 75, Highway 41, Chastain Road and Barrett Parkway, the multi-use facility has been designed to be a bona fide destination for sport shooting enthusiasts.
"This is a new concept. Nothing like this has ever been built in the United States," Brown observes. "Cobb County, and Kennesaw in particular, is a great launching pad for a facility like this. And ultimately, we will have one of the greatest facilities of anyone in the world. It's going to be something really special."
Where the Golf Club Meets the Gun Range
The idea for the Governors Gun Club's Kennesaw facility actually came to Brown several years ago. As owner of The EGAD Group, a Cobb-based design firm, he had worked on a variety of projects over the years. Then, in 2006, he was contacted by someone who requested his company's help in designing a gun range. Wanting to understand the ins and outs of this type of facility, Brown toured the country to study comparable sites and to meet with vendors to discuss the industry. And he unexpectedly had an "a-ha" moment during the experience.
"I happened to be looking at statistics, and the sport of shooting at that point in time was almost as big as golf as far as sports participation. That caught my eye," he says. "It sparked the idea of trying to make the shooting sport as close to golf as I could. And what do golf courses have that gun ranges do not? It was the country club aspect."
As Brown became known for his company's design of gun ranges nationally, he tried to encourage his clients to create facilities that offered a more luxurious environment, creating a membership-based destination atmosphere. However, no one showed interest in looking at the opportunity from a fresh angle. And soon, as the economy began to struggle, so did the EGAD Group's clients – and, eventually, the company itself. Brown and his wife knew they had to take drastic action to stay afloat financially.
"My architecture business came to screeching halt overnight," Brown recalls. The couple decided to turn to what Brown had learned through his research was a somewhat recession-proof business; in 2010, they opened a small retail gun shop in Acworth called Lakeside Guns. It found local success, and Brown soon turned his sights to the concept he had been tinkering with for a few years. That's when the Governors Gun Club was born.
Initially, Brown wanted to open the country club-esque shooting facility within the city limits of Kennesaw, which is known for its "mandatory" (but not enforced) gun possession ordinance for homeowners. The location seemed like a perfect fit for his business model. However, the state of the economy and the banking industry made it impossible to move forward with that plan. But Bert and Kristina Brown refused to give up, as they saw great potential in the idea. By 2013, they were able to open a Governors Gun Club facility in Powder Springs, which quickly grew in popularity and formed a solid membership base. And they continued to plan for the future and the facility that they truly wanted to open in Kennesaw.
A Dream Realized
Three years ago, as the economy began to recover and the Governors Gun Club continued to attract sport shooting enthusiasts, Brown decided that it was time to move forward with his plans for the quintessential indoor shooting facility. His goal was to create a locale that would cater to all elements of the sport, from target shooting to archery and skeet shooting. He and Kristina secured new financial partners, found a location in Kennesaw, and prepared to break ground on an 83,000-square-foot facility. But they promptly realized that the site would not accommodate the plans they had in mind.
"We had to scrap the plans and start from scratch again," Brown reveals. Finally, the couple identified what ended up being the perfect 7.5-acre property for the facility, located just outside the Kennesaw city limits near the airport. The space available allowed Brown's architect to expand the original plans, bumping the space up to more than 87,000 square feet and ensuring that the team would be able to incorporate every feature on the wish list – including the indoor trap and skeet facility, which is a one-of-a-kind amenity in the United States.
Because of its unique nature and design features, the project faced many hurdles and challenges in getting off the ground. However, Cobb County Commissioner Bob Weatherford was always available to help Brown navigate and work through these issues with the County. Brown states, "He went above and beyond to help us make this facility come to fruition."
The facility is now slated for completion in August, 2017. Brown plans to have a soft opening in early September for Governors Gun Club members, with the entire facility opening to the general public in the middle of the month. And visitors undoubtedly will be impressed by what they see. "This facility has been designed to cater to everyone — from the most practiced shooter to the person who has never held a gun," Brown says. "It is the largest facility of its kind, and it will have the most state-of-the-art resources available. This is going to set a brand new standard in accommodating a growing sport that boasts almost 20 million participants. And we expect it to draw a national following."
A Community Asset
The new Kennesaw facility will be four times larger than its Powder Springs counterpart. "Powder Springs is limited in what it can accommodate," Brown asserts. "But it was such a blessing to be able to open that smaller facility first. We were able to analyze the business model and adapt it into this new concept."
A key element that is missing from the Powder Springs location is the ability to host large events. More than 6,000 square feet of convention space and a large restaurant will alleviate that issue and attract people from across the region and the nation to the Governors Gun Club's facility, bringing an array of benefits to Kennesaw and Cobb County. "In addition to the recreational and entertainment asset, the Club will provide the community with a new gathering space that will benefit local businesses. It will be a great place to gather for meetings and other local events," says Tracy Rathbone, executive director of the Town Center Community Improvement District. "And I am hopeful that it will bring visitors and residents to the community that may not otherwise be aware of everything that Town Center has to offer."
Longtime Governors Gun Club member Keith Wells, an engineer with Lockheed Martin, plans to bring national and international clients to the facility when they come into town for bi-annual meetings. "The new facility will be so convenient for business meetings," he says. "Twice a year, we like to have a social evening for our customers from around the U.S. and international clients. The Club allows us to spend time on the range and then eat and drink in a social environment. And the Kennesaw facility, with its size and new features, is going to be much more suitable for those kinds of meetings."
What's more, the Kennesaw location will bring upwards of 100 jobs to Cobb County. And Brown expects that to grow as the Governors Gun Club eventually moves its corporate office to the area. In the end, Cobb County will serve as a hub from which he and his team can build and manage comparable facilities in locations throughout the country. In fact, Brown hopes to grow the business to the point where Governors Gun Club builds four to five indoor shooting facilities per year nationwide. Brown notes, "Kennesaw will set the tone and model for our growth."
Beyond Members Only
Membership in the Governors Gun Club will provide exclusive access to certain features in the new Kennesaw facility, such as dedicated shooting lanes, a special members lounge and more. It's just one of the many perks that members, such as Wells and Darren Pinson, have enjoyed since joining the Powder Springs location. Yet, they want people to understand that the facility is open to the general public, who can shoot, take classes and enjoy a wide range of amenities. And once local residents recognize everything the Club has to offer, membership will be a welcome opportunity.
"It's a great social environment. It's a family atmosphere, and my wife and I have made so many close friends through the Club," Wells says. Pinson adds, "To me, it's an extended family. When you walk into the Club as a member, you feel special from day one. And I have loved to see the diversity of people coming to Powder Springs to shoot and enjoy the sport. And this expansion [into Kennesaw] gives the Club the chance to introduce another community to the sport."
"There are a few of us who play golf every now and then. But we shoot every week," Pinson continues. "For us, this is our golf club. It's an all encompassing environment where you can feel comfortable with the experts and professionals who are here."
"When we created the membership structure, we didn't realize that we would be creating a family," Brown says. "Our members have the shooting sport in common, and it is now an unbelievable social circle of like-minded people who want to help educate and further the sport. That is our biggest accomplishment."
The facility in Kennesaw, then, is not only a testament to the popularity and growth of the sport of shooting, but also to the members who are dedicated to seeing Governors Gun Club succeed. "They all have a sense of ownership and belonging to this Club," Brown concludes. "We want to be the trendsetter in this market. And we are the trendsetter. We are building the biggest and best facility of its kind. And we want the people of Kennesaw and Cobb County to know that something great is coming."