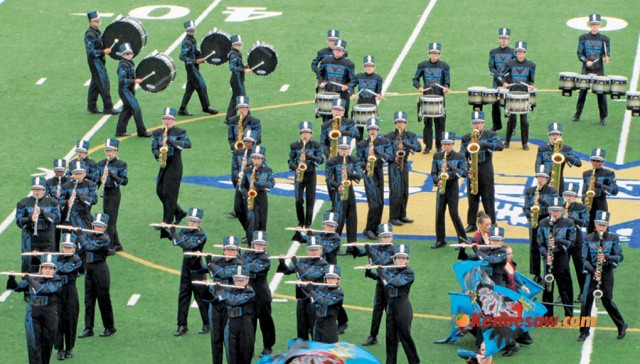 The Harrison High School Marching Band is excited about being selected to march in the 2016 Macy's Thanksgiving Day Parade in New York City for the second time in less than a decade.
"Growing up in the South, it was our tradition on Thanksgiving morning to have a small breakfast while watching the Macy's Thanksgiving Day Parade," says David Balentine, co-president of the Harrison High Band Boosters and the father of Ben Balentine, a sophomore alto-sax player in the band. "Having come from a smaller high school in Alabama, I never dreamed of having the opportunity to watch the parade live, let alone participate!
"This is a dream come true for many students and parents, the culmination of hard work and dedication to excellence in the marching band community. And, as only one of 10 bands scheduled to perform, it is a great honor to be chosen to perform on such a grand stage."
Band members learned about the selection last April after they were called to the Harrison Theater. Wesley Whatley, creative director for Macy's Parade and Entertainment Group, was on hand to make the announcement. Bands are selected after an application process, Balentine says, and they are chosen based on the excellence of their music performance on and off the field. Band directors submit a DVD of the band's field marching performance in order to be considered.
"We work really hard to be visible on a national stage in all parts of our program, so it's a huge honor and a privilege to know that your hard work is recognized and there's some validation there. And what a great opportunity for these kids." says Josh Ray, Harrison band director. "We are proud of our kids and the hard work they have put in to making this happen. It is a huge honor for the Harrison band to be a part of the historic tradition of the Macy's Thanksgiving Day Parade. We are glad that we have been chosen to represent our state and our community on a national level."
Approximately 225 students from Harrison will perform in next year's parade. And in order to ensure the safety of students, between 25 and 30 chaperones, directors and other school officials will be needed to watch over the students as they navigate their way around NYC during the weeklong trip.
Jordan Loebach, a junior at Harrison and member of both the school's marching and symphonic bands, says she's very impressed with her band mates and their selection to march in next year's parade. "This is a great honor for our program, our school and our community," she adds. "I am happy to be representing Georgia."
Community Support
In order for Harrison's band students to enjoy such a memorable moment in their young musical lives, members will be fundraising to help cover as much of the cost as possible for each participant. Balentine says the biggest expenses will be housing, feeding and transporting the students and chaperones from Kennesaw to New York City and back. "This part of the trip may cost as much as $150,000, depending on how many students participate," he says. "The cost to the student for the trip is around $1,600, on top of their normal band fees for the year; so for some willing benefactor who wishes to sponsor the band with a $300,000 donation, we can make the necessary arrangements!"
Fundraising has already begun. "We are partnering with the concessions company for Philips Arena, where students can earn fundraising credits to offset their fees for next year," Balentine says. "We are also partnering with ShopwithScrip.com, where families can buy gift cards for their everyday purchases (groceries, clothes, home improvement, etc.), and they get a rebate of 1 to 10 percent of the face value of the gift card. It's a no-brainer fundraiser. We have other fundraisers throughout the year, including plant and fruit sales, electronic recycling and we are considering a 5K to help raise funds."
And Balentine says they are asking for the Cobb community's support in making this musical dream come true for their students. "The greatest need is financial. With the total cost for the trip nearing $300,000, what is not collected through fundraising becomes the responsibility of the student and their family to pay," he adds. "We have some families with two members marching this year and some that are expecting three members to participate next year. This could be a deal breaker for some families and we do not want to leave anyone at home."
He says the easiest way to help is by becoming a corporate sponsor, an opportunity that can come from individuals or businesses in the Kennesaw and greater Cobb County area. Visit the following link to learn more about this opportunity: harrisonbands.org/www/media/corporate-sponsor-program/.
"The pressure to represent Cobb County and Georgia is a huge responsibility the students and staff take seriously!" Balentine concludes. "In addition to all of this, one of the highlights of the trip will take place Thanksgiving night, when all of our students, staff, parents and any family members who wish to participate, will have Thanksgiving dinner together as one big band family."
—————
Trip Details
Scheduled to leave Kennesaw Nov. 20, 2016, and return Nov. 26, 2016.
Students and chaperones will visit places like Radio City Music Hall to see the world famous Rockettes perform, take in a show on Broadway, visit Ground Zero and Central Park and take a skyline boat tour of NYC.
Nov. 24, 2016: March approximately 2.5 miles in front of 3.5 million people lining the parade route, as well as more than 50 million television viewers.
Harrison Bands:
Since its inception in 1991, the Harrison High School band program has quickly established a reputation for musical excellence. The Wind Ensemble, Symphonic Band and Concert Band each meet for 90 minutes every day within a four-period block schedule and typically perform five to six concerts per year. Students in the Harrison bands are consistent members of the District Honor Band, Georgia All-State Band, Atlanta Symphony Youth Orchestra, Atlanta Youth Wind Symphony, Metropolitan Youth Symphony Orchestra, Honor Band of America, Georgia's Governor's Honors Program, Atlanta Youth Jazz Orchestra and Georgia Youth Symphony Orchestra. Learn more about the program at harrisonbands.org.