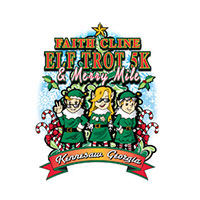 The annual Faith Cline Elf Trot 5K Race takes place on Saturday, December 14, 2013 at at 7:30am.  The race honors Faith Cline, who was a 17 year old high school senior when she was diagnosed with an inoperable brain stem tumor. Faith's high school diploma was on her "wish list", so she completed her graduation requirements early and was recognized in a graduation ceremony at Kennesaw Mountain High School in August just weeks before her death. Her story is an inspiration to all who knew her or knew about her.
The run begins at Kennesaw First Baptist Church and ends in Downtown Kennesaw. The race runs down Main Street to Swift Cantrell Park, makes one loop around Swift Cantrell Park and returns to downtown Kennesaw. Women, men, boys, and girls are invited to run, walk or stroll a 5K (3.1 miles), or participate walking or running in the Merry Mile.
Date:
Saturday December 14, 2013
Time:
7:30am
Entry Fees:
$25 – 5k walk, run or stroll ($30 day of race)
$25 – 1 mile fun run ($30 day of race)
For more information, please call (770) 429-9733.