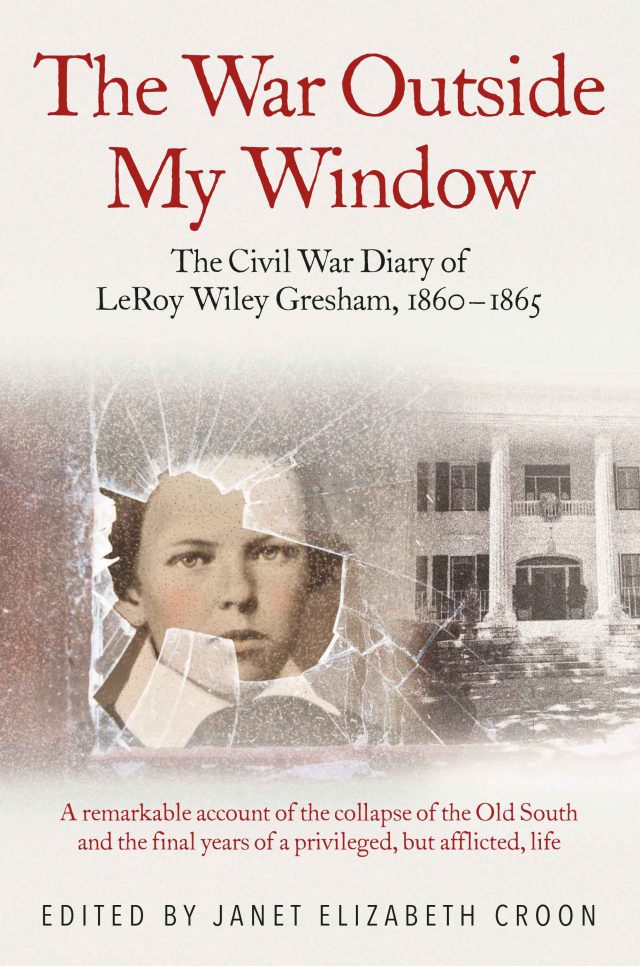 Editor Jan Croon Touring with Georgia Boy's Civil War Diary – The War Outside My Window: The Civil War Diary of LeRoy Wiley Gresham, 1860-1865.
EL DORADO HILLS, CA: August 14, 2018 – Editor, Jan Croon will be discussing and signing copies of The War Outside My Window: The Civil War Diary of LeRoy Wiley Gresham, 1860-1865.
The event will be on Saturday, September 15, 2018 at 2pm with book presentation and signing at Kennesaw Mountain National Battlefield Park (900 Kennesaw Mountain Drive, Kennesaw, GA www.nps.gov/kemo/planyourvisit/hours.htm).
LeRoy Gresham was born in 1847 to an affluent and prominent slaveholding family in Macon, Georgia. As a young child he suffered a horrific leg and back injury that left him an invalid. Educated, inquisitive, perceptive, and exceptionally witty, the 12-year-old began keeping a journal in 1860 – just before secession and Civil War tore the country and his world apart. He continued to write even as his health deteriorated until both the war and his life ended in 1865. His unique view of a waning age is published here for the first time in The War Outside My Window: The Civil War Diary of LeRoy Wiley Gresham, 1860-1865.
The precocious youngster who read Shakespeare and Dickens, loved math, and played chess, took in the world from his bed and inside a small wagon pulled around town by a slave his own age. Thirsting for news, LeRoy immersed himself in newspapers, letters, books, and adult conversation, following the course of the war closely as he recorded its impact on his family, his community, and the new Southern Confederacy. LeRoy's older brother Thomas served with Lee's army in Virginia, as did many uncles and neighbors. The wealthy slaveholding family had a deep stake in its outcome.
Little escaped LeRoy's pen. His journals brim with both practical and philosophical observations on everything from the course of the war, politics, and family matters, to Macon's social activities, food, weather, and his beloved pets. The young scribe often voiced concern about "Houston", the family's plantation outside town. He recorded his interactions and relationships with "servants" and "valets" Howard, Eaveline, "Mammy Dinah" and others as he pondered the fate of human bondage and his family's fortunes.
LeRoy's declining health is a consistent thread coursing through his fascinating journals. "I feel more discouraged [and] less hopeful about getting well than I ever did before," he wrote on March 17, 1863. "I am weaker and more helpless than I ever was." Morphine and other "remedies" eased his suffering. Bedsores developed; nagging coughs often consumed him. Alternating between bouts of euphoria and despondency, he would often write, "Saw off my leg."
Edited and annotated with meticulous care by Janet Croon, The War Outside My Window: The Civil War Diary of LeRoy Wiley Gresham, 1860-1865 captures the spirit and the character of a young privileged white teenager witnessing the demise of his world even as his own body is slowly failing him. Just as Anne Frank has come down to us as the adolescent voice of World War II, LeRoy Gresham will now be remembered as a young voice of the Civil War South.
About the Editor: Janet E. Croon holds a Bachelor's Degree in Political Science, Modern European History, and Russian Language and Area Studies from the University of Illinois at Urbana-Champaign (1983), and a Master's Degree in International Studies from the University of Dayton (1985). She has been teaching International Baccalaureate History for nearly two decades and developed a deep interest in the Civil War by living in northern Virginia. This is her first book.
About Savas Beatie LLC: Savas Beatie LLC is a leading military and general history publishing company. Read more about The War Outside My Window.
Contact: Renee Morehouse, Savas Beatie LLC
Email: renee@savasbeatie.com
Phone: 916-941-6896, Fax: 916-941-6895