3D printers, also known as additive manufacturing, and the various processes used to make three-dimensional objects were first developed in the late 1970s. Nearly 50 years later, the technology has expanded from being utilized mainly in a manufacturing environment to easy access by pretty much anyone, especially to residents here in Cobb County.
The Cobb County Library System, for example, has five 3D printers that have been in use since they were purchased in late 2014 for demonstrations for young adults and adults, as well as for training staff members. The library system plans to roll out its public 3D printer program this spring at four library locations and the fifth will be used for testing and training. The public 3D printers will be available at the Switzer Library and the three regional libraries: Mountain View, South Cobb and West Cobb. The five Maker Bot Replicator 5G 3D printers were purchased with a state grant for almost $17,000. The cost includes the Digitizer 3D scanners and handheld Cubify 3D scanners for each printer.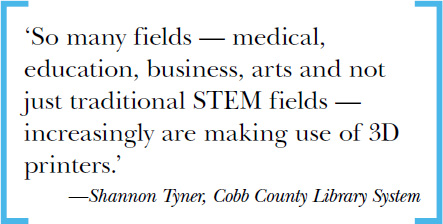 "The 3D printer service will provide the public with opportunities to enhance technology skills by creating sculptural objects or developing objects that will have practical uses, including tools and prototypes for businesses," says Mike Aiken, associate library manager for community and user engagement. "The introduction of new technologies has long been a public service provided by libraries in the United States, such as assisting the public in using computers and the Internet. Library patrons and students developing 3D printing skills learn how to operate 3D printers, handle digital files used in building objects and the process of making a usable object."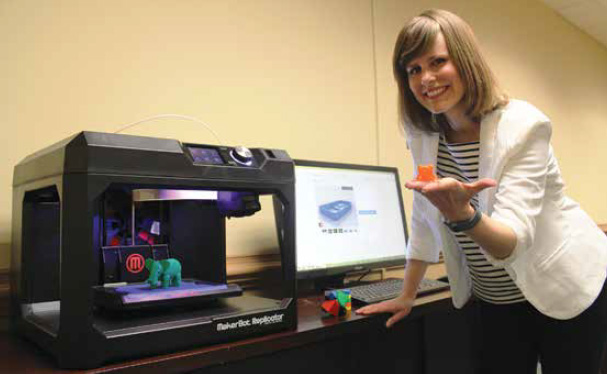 The cost for 3D printer users will be 15 cents per gram of filament used in the printing process, with a minimum charge of $2.50. Print jobs will be limited to two hours and librarians will assist patrons in determining how to handle large jobs with advice on how to break the project into smaller jobs or other options. Aiken says they anticipate that library patrons will most commonly use the printers to either complete a school assignment that involves printing a 3D object, or create or make a utilitarian object for home or personal use.
Shannon Tyner, a virtual librarian with the Cobb system, says library programs also utilize the 3D printers, including the summertime tech workshop series Cobb GEMS (Girls in Engineering, Math and Science), which launched in 2014. Tyner, who also serves as coordinator of the Cobb GEMS program, leads the team of young women ages 11 to 18 and the Atlanta area technology professionals participating in GEMS. Nearly 80 girls in the GEMS program got hands-on experience with all aspects of 3D printers last summer. The GEMS program is ahead of the curve in providing 3D printer training before use of the technology is mainstream. "The printers themselves are so much fun to use," Tyner says. "The girls had a wonderful time and definitely learned a lot of new skills that they can take with them. So many fields — medical, education, business, arts and not just traditional STEM fields — increasingly are making use of 3D printers."
Learn more about the library system's 3D printers, Cobb GEMS and digital resources by visiting cobbcat.org.
Enhancing Student Opportunities
Cobb schools, both public and private, are offering the technology to students as well. The Cobb County School District, for instance, has 3D printers that are used for engineering and technology classes in 12 middle schools, Campbell Middle, Daniell Middle and Simpson Middle just to name a few; and three high schools utilized the technology for engineering course: Lassiter, Pope and Wheeler. Printers are also available at Tritt, Clay, King Springs and Keheley elementary schools. Students use them for projects like a left/right brain model for a science fair experiment, making objects that interact with a robot and creating the shapes of continents for first-graders.
At Mount Paran Christian School, a private school in Kennesaw, Brad Smith, the physics and engineering teacher, as well as the robotics team's head coach, says their high school students have learned a lot by using 3D printers in the school's Foundations of Engineering and Technology and Engineering Concepts classes. "Even when they progress beyond the initial 'wow' factor of the infinite creative potential these devices provide, they discover additional layers to learn," Smith says, adding that they learn using only one type of 3D printing technology called Fused Filament Modeling (FFM), but that there are other types. "They learn that FFM 3D printed parts have directional strengths and weaknesses, that is, that they are anisotropic (the property of being directionally dependent).
"They learn to control the strength of the printed part by controlling attributes, such as print direction, fill pattern, shell thickness, filament diameter and infill. They learn that they can control the speed with which the printer produces their creation and the amount of filament material that is used. They learn that they can control the coarseness or fineness of the printout and the finish quality by selection choices. They learn to control these variables according to the task at hand, and the purpose of the printed sample. They even become masters at maintenance and troubleshooting. Students start and stop print jobs, disassemble, clean and reassemble blocked extruder heads, and load and unload filament cartridges. They do it all."
Smith says engineering classes use the printers in required units of curriculum to translate a 3D model from a computer-aided design into a physical exemplar. Early assignments examine the function of the device, its attributes and limitations, and produce a physical representation of parts drawn in tutorials. More advanced assignments require printing student-designed products, which play some functional role in a device and allow for tolerance and fit as a part of a functional assembly.
In the school's competitive robotics program, 3D printing serves two important roles: "It allows for both prototyping of student solutions to parts within a team design, and, when the application allows for it, provides for an inexpensive way to fabricate precision end-use robot components," Smith says. Team 7373 Eagle Robotics competes in the FIRST Tech Challenge, for example, and the group has 3D printed winch spools, mechanisms which have allowed the robot to hang from a chin-up bar, end effectors and numerous other field element handlers, sensor housings, clamps, mounts, etc.