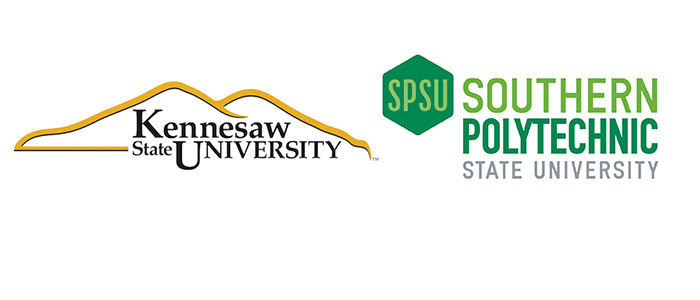 Kennesaw State University and Southern Polytechnic State University will consolidate to form a new institution to be named Kennesaw State University. The Board of Regents of the University System of Georgia will be asked by Chancellor Hank Huckaby to approve the consolidation plan during its upcoming November meeting.
"We must continue to carefully examine our structure and programs to ensure we have the right model that best serves our students and the state," Huckaby said. "This proposal offers us some exciting possibilities to enlarge our academic outreach through the existing talent and resources at both these institutions."
The decision to consolidate the two institutions, whose combined enrollment this fall is 31,178 students and combined annual economic impact on the region is $1.15 billion, follows the six guiding principles for consolidation approved by the board in Nov. 2011: http://www.usg.edu/news/release/regents_approve_principles_for_consolidation_of_institutions
KSU President Dan Papp will serve as the president of the new institution. The timeline calls for the approval of the plan to consolidate by the board of the Southern Association of Colleges and Schools (SACS) in Dec. 2014, followed by Board of Regents approval of the new institution in Jan. 2015.
"This opportunity creates a new dynamic for us to raise educational attainment levels and enhance our ability to contribute to regional economic development," said Papp. "I look forward to working with the many talented individuals at both institutions in the coming months as we create a new institution."
"The unique strengths and assets of both institutions will enable us to improve access and expand the scope of the new institution among students and key stakeholders," said Southern Polytechnic President Lisa Rossbacher. "We will be able to strengthen our core mission of teaching, research and service."
Kennesaw State University – the third-largest university in the USG – is a comprehensive university with expanding undergraduate and graduate programs in Kennesaw, Ga. The university celebrates its 50th anniversary this year. Nearly 20 graduate degree programs are offered in professional concentrations including nursing, business, information systems, conflict management, education and professional writing.
Southern Polytechnic State University, located in Marietta, Ga., was founded 65 years ago and moved to Cobb County in 1961. Its mission embraces all aspects of science, engineering and technology, including the practical applied skills needed to solve today's real-world problems and the theoretical knowledge necessary to meet tomorrow's challenges. Over the past six years, Southern Polytechnic's enrollment has increased 36 percent, an increase of 4,460 students.
An implementation team with representatives from both institutions to work out the many details associated with consolidating the two universities will soon be formed. The implementation team will also be responsible for submitting the required documents for accreditation.