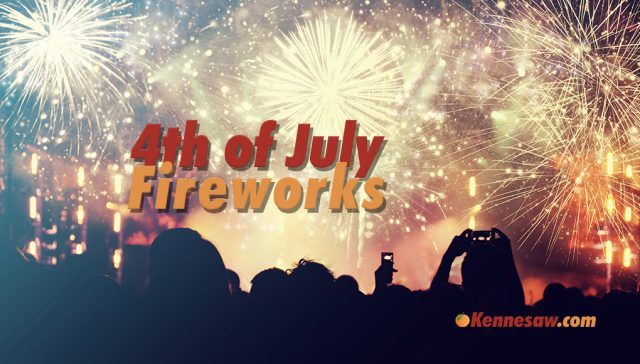 Kennesaw's traditional pre-Independence Day Salute to America celebration has been canceled. takes place on Saturday, September 12 from 5pm to 9pm Friday, July 3, 2020 from 6pm to 10pm. The event features two stages of live music, festive entertainment, food vendors, and kids activities as well as one of the biggest fireworks displays in North Georgia.
The Star-Spangled Fireworks Spectacular are scheduled to begin at 8:30pm 9:30pm, and will be visible from several locations throughout downtown Kennesaw.
2020 Schedule:
8:30pm – Fireworks
Date:
Canceled for 2020
Rescheduled for Saturday, September 12, 2020 from 5pm to 9pm.
Friday, July 3, 2020 from 6pm to 10pm

Admission
Free, no ticket is required
Parking
Parking will be available along Main Street, at the intersection of Main Street and Moon Station Road, behind the Southern Museum (off Shirley drive), and off Sardis Street (near the intersection of Big Shanty Drive). Main Street from Watts Drive to Summer Street and Watts Drive from Little General Clogger Ave to Main Street.
Location
Historic Train Depot
2828 Cherokee Street
Kennesaw GA 30144
Phone:
(770) 422-9714
Looking for rain info or last minute updates:
For more information about the pre-Independence Day Salute to America celebration, please call the Kennesaw Parks & Recreation Department at (770) 422-9714 or visit KennesawJuly3.com or visit their Facebook page at Facebook.com/KennesawParksRecreation.