Kennesaw offers numerous outdoor and indoor attractions suitable for all ages.
View our list below to check out some of the highlights, and also be sure to visit
our Kennesaw calendar of events to find special events happening in Kennesaw
this month.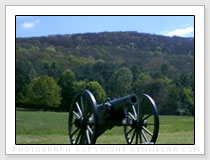 Kennesaw Mountain National Battlefield Park
900 Kennesaw Mountain Dr.
Kennesaw, GA 30152
(770) 427-4686
Kennesaw Mountain National Battlefield Park is a 2,884 acre park featuring over 17 miles of trails.  The visitor's center features information about the area as well as a Civil War items and information.  From the top of the mountain, you can see downtown Atlanta and the surrounding area.  Read More.
Southern Museum of Civil War and Locomotive History
2829 Cherokee Street
Kennesaw, GA 30144
(770) 427-2117
Featuring "The General" from the Great Locomotive Chase during the Civil War, the Southern Museum of Civil War and Locomotive History tells the story of our railroads through special exhibits, archives, library, and museum collections.
Smith-Gilbert Garden (formerly Smith-Gilbert Arboretum)
2382 Pine Mountain Rd NW
Kennesaw, GA 30152
(770) 975-4077
Visitors can explore the home and gardens surrounding an 1840s plantaion home. Over 3,000 plant species and 30 sculptures by nationally known artists are available for exhibition and study. In addition, there are opportunities for bird watching in the 13 acre site.
Brunswick Zone XL
775 Cobb Place
Kennesaw, GA 30144
(770) 427-7679
Featuring bowling, billiards, an arcade, and more.
Ice Forum
3061 George Busbee Pkwy
Kennesaw, GA 30144
(770) 218-1010
Featuring skating, hockey, birthday parties, video games, concessions, skating classes, and more.
Around Kennesaw Attractions
While visiting Kennesaw, you may also be interested in some of the attractions that are only minutes away from the city of Kennesaw.
Georgia Aquarium
225 Baker St
Atlanta, GA 30313
(404) 581-4000
World of Coca Cola
121 Baker St NW
Atlanta, GA 30303
(404) 676-5151
The museum features interactive exhibits, Coca Cola history, a gift shop, and a soft drink tasting of 60 different flavors from around the world like Inca Cola from Peru, Fanta Melon Frosty from Thailand, Mezzo Mix from Germany, Stoney Ginger Beer from South Africa, Smart Apple from China, and the notorious Beverly from Italy.
Zoo Atlanta
800 Cherokee Ave SE
Atlanta, GA 30315
(404) 624-5600
Featuring live shows, animal exhibits including the popular pandas and gorillas, a carousel, a train, and much more.
Six Flags Over Georgia
7561 Six Flags Pkwy
Austell, GA 30168
(770) 948-9290
A world-class amusement park featuring numerous rides, shows, and of course roller coasters.
Atlanta Botanical Gardens
1345 Piedmont Ave NE
Atlanta, GA 30309
(404) 876-5859
Featuring lush gardens, picturesque fountains, a library, and animals including butterflies, geckos, turtles, quail, frogs, and honey bees.
Lake Lanier Islands
7000 Holiday Rd
Lake Lanier Islands, GA 30518
(770) 932-7233
Featuring a sandy beach, water park, golf, horseback riding, and camping
Stone Mountain Park
6867 Memorial Dr
Stone Mountain, GA 30087
(770) 498-5690
Featuring the world's largest exposed granite monolith, with relief carving of Confederate notables, numerous hiking trails around and up the mountain, a playground, riverboat cruise, skyride cable car, a laser light show, a railroad, an antebellum plantation, miniature golf, treehouse, 4D theater, and museum.
Chattahoochee Nature Center
9135 Willeo Rd
Roswell, GA 30075
(770) 992-2055
Featuring live animal exhibits, educational programs, hiking, a boardwalk along the Chattahoochee river, and numerous outdoor activities.
Centennial Olympic Park
285 International Blvd,
Atlanta, GA 30313
(404) 222-7275
Featuring fountains surrounded by a grassy park with picnic areas, music, art, and more.
Admission: Free
Yellow Game Ranch
4525 Highway 78
Lilburn, GA 30047
(770) 972-6643
Wildlife
Imagine It! Children's Museum of Atlanta
275 Centennial Olympic Park Dr NW
Atlanta, GA 30313
(404) 659-5437
Hands on Learning ideal for children age 8 and younger
Andretti Karting and Games
11000 Alpharetta Hwy
Roswell, GA 30076
(770) 992-5688
Featuring superkarts, race classes, rock climbing, zip line, a ropes course, and more.
Sun Valley Beach
5350 Holloman Rd
Powder Springs, GA 30127
(770) 943-5900
Featuring waterslides, fountains, diving platforms, zip lines, swinging ropes, a playground, a picnic area, concessions, miniature golf, and more.